Nautilus has produced quite of few top-quality treadmills that satisfy most indoor runners.
The T618 by Nautilus is a top-quality well-built treadmill, packed with many exciting features, causing one of the favorites among runners.
But is it worth the price? Is this the best running machine under $1,500? What are the major drawbacks of this treadmill? And what about its competition?
Let's read on to know all the answers regarding the Nautilus T618 treadmill, including pros and cons, key features, competition, and who can find it the best fit for their needs.
Nautilus T618 Treadmill Review
| | |
| --- | --- |
| Editor's Rating: | 4.7/5 |
| Display: | Dual Blue Backlit LCD |
| Tread Belt: | 20″ x 60″ |
| Motor: | 3.5 CHP |
| Speed: | 0-12 MPH |
| Incline: | 0-15% Auto |
| Folding: | Yes |
| Cushion: | Rebound deck cushioning |
| Item weight: | 253 Pounds |
| Weight capacity: | 350 Pounds |
| Dimensions: | 78 x 37.6 x 62.8 inch |
| Heart Rate: | Contact & Telemetry Enabled (Chest strap included) |
| Warranty: | 15-Years on frame and motor; 5-years on parts and electronics; and 2-years on labor. |
What We Like
Programs: Nautilus provides blue backlit DualTrack screens packed with 26 programs, including interval, heart rate, and weight management.
Bluetooth capabilities: This treadmill has Bluetooth capabilities, so you can set, track and monitor your progress with popular app-based tracking tools.
Trade Belt: The Nautilus T618 treadmill builds with a 20 by 60-inch gym-quality running path — satisfying most of the average athlete for indoor running.
Powerful motor: It builds with a 3.5 CHP high-powered motor with a speed of 12 MPH, giving you the perfect pace for your intensive session.
Incline: It gives a 15% motorized incline which is a great ingredient to make your workout more challenging than usual.
Cushioning: T618 treadmill offers a StrikeZone cushioning system that takes care of your knees and joints' health in the long run.
Heart rate monitor: It includes a wireless chest strap and contacts handgrips so you can easily monitor your heart rate.
Weight capacity: The treadmill can load up to 350 pounds which will most likely cover up all your family members very well.
Folding design: It comes in a folding design, giving itself an option to fit in a small space.
Warranty: The Nautilus protected this treadmill with an extended warranty life that gives you the confidence and peace of mind to go with your full pace.
What We Don't Like
Console: Although the Nautilus T618 treadmill features dual blue backlit screens, you may find an HD screen on other same range machines (like NordicTrack).
Price: It's slightly an expensive one. You can look for other budget treadmills if you have a tight budget.
Customer service: Due to their vast customer range, it may be a slight delay to response your calls or emails.
This Treadmill Could be for You, if:
You're looking for a running machine under $1,500.
You've short space at your home as this treadmill comes with a folding design.
You want extra motivation to push yourself on the machine as this treadmill gives you many programs and has comfort features.
You want a treadmill that gives you a smooth and stable running experience over the years.
You want to go with our top pick treadmill at this budget.
Key Features: Nautilus T618 Treadmill
Let's dive into the features of the Nautilus T618 Treadmill.
Technology
The Nautilus T618 Treadmill features blue backlit DualTrack screens, packed with 26 programs, including interval, heart rate, and weight management. The dual screens offer visibility to workout metrics, even when the media tray is in use.
With its enhanced Bluetooth connectivity, you can set, track and monitor your progress with popular app-based tracking tools.
A secure device holder and integrated premium speakers let you work out with your fitness classes, music, and videos which help you stay motivated to crush your desired goal.
The T618 treadmill includes a USB port to keep your phones, tablets, or music players full battery life.
Performance
The Nautilus T618 has everything you need in a treadmill to walk and run when it comes to performance.
It builts with a robust 3.5 CHP motor that runs at the speed of 12 MPH — making your running session more stable and smooth.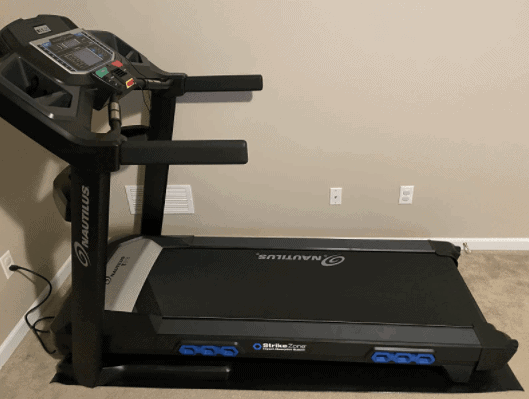 This treadmill can support up to 350 pounds of weight that promotes stability to your workout. And the Bluetooth Chest Strap and contact hand grips make it easy to keep your heart rate up to the mark.
Comfort
Whether you're a jogger or a sprinter, its 20″ x 60″ gym-quality running path and durable 3 ply 2.5mm belt increases traction and durability for long belt life.
Along with a large commercial level belt, it includes StrikeZone cushioning system so you can work out longer without inviting joints and back pain.
That's not the end; the Nautilus includes a 3-speed fan that keeps you cool in a calorie-torching workout.
Convenience
The Nautilus' innovative SoftDrop folding technology helps you safely lower the deck from the raised position or fold it up after completing your training — making it a piece of perfect equipment for small spaces.
The Nautilus protects this treadmill with a 15 years motor and frame, 5 years mechanical and electrical, and 2 years labor warranty, giving you the peace of mind to train for the long years.
Watch the Nautilus T618 merchant video:
Competition: It's Tough to Beat
In a budget under $1,500, it's very challenging to compete with the Nautilus T618 treadmill.
However, some models provide almost the same features, or you may get other features that you may need. So, check them out before making your decision.
Horizon 7.0 AT Treadmill: It's almost similar to the Nautilus T618 treadmill. Here at Horizon 7.4 AT, you'll find the same deck size and a more extended warranty at a more affordable price than the Nautilus. However, the motor power and weight capacity are slightly short.
NordicTrack Commercial 1750 Treadmill: Want to watch videos on the console? You must check out the NordicTrack 1750 Treadmill. Although it may need you to stretch your budget slightly, but the 10″ interactive HD touchscreen with 30-day iFit membership, -3% to 15% incline, and a wider running space — makes it worthy of your money (view on Amazon).
Frequently Asked Questions
Does the Nautilus T618 treadmill fold up?
Yes! The Nautilus T618 is a folding treadmill. You can easily fold the deck up, and its SoftDrop folding technology helps you safely lower the deck from the raised position.
How much does the Nautilus T618 weigh?
The Nautilus T618 weighs 253 pounds (114.7 kg).
How do I use the Nautilus T618?
The Nautilus T618 is a running treadmill that can give you a smooth and stable running experience years long. So whether you're a walker, jogger, or runner, you can use it according to your goal and mood.
Conclusion
Okayyy, we've gone through all the things we need to know before making the final decision. The Nautilus T618 is one of the most impressive running machines under $1,500.
Now, I'm curious to know what you think about the Nautilus T618?
Do you want to go with it or any other one?
Or, if you've any questions regarding the best home treadmill, drop them in the comment section below. I will be glad to help you out!
Read Next: Top 5 Best Treadmills Under $1500