Treadmills come in two basic types — manual and electric treadmills.
You generate pace or move the belt through your legs on a manual treadmill, which means the belt will only move if you move it.
On the other hand, in an electric treadmill, a motor runs the belt in motion with the help of electricity. It's the popular treadmill type.
But is it really suit your needs? Or which one is best for you?
Let's read on the manual vs electric treadmill comparison to know the key differences, pros and cons, and our top three picks for both sides so that you can buy the best one for you.
What is the Difference in Manual vs Electric Treadmill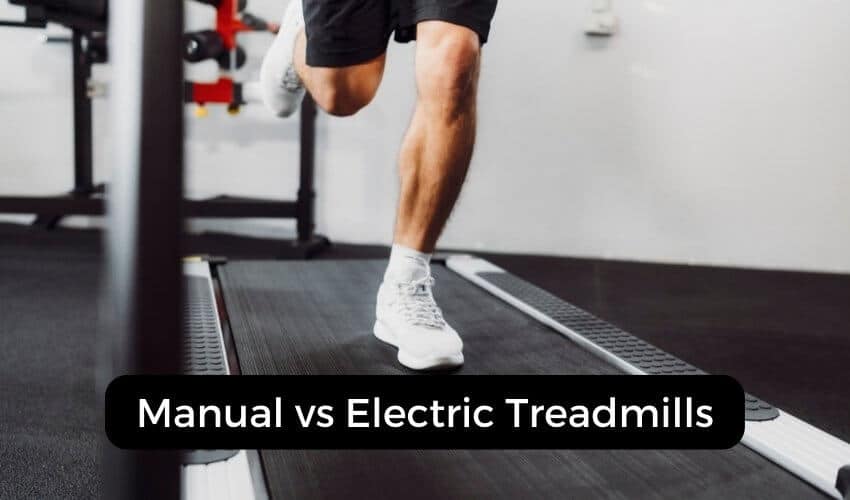 The manual treadmill is powered by the user itself, which means the movement of your feet against the deck helps the belt move. The belt only moves if you move it — as the name defines it.
You can increase or decrease your belt speed by adjusting the pressure you put through your legs. Some manual machines offer a resistance system, which allows you to make your workout more challenging.
In a 2015 study, researchers found that at the same speed, people burn about 30% more calories on a manual treadmill than on a motorized treadmill.
Also, running on a curved manual treadmill has a higher calorie burn rate and increases heart rate (more than 20 beats per minute) compared to running on an overground or motorized treadmill. (1)
On the other hand, a motorized treadmill operates through a built-in motor with the help of electricity, which means you don't need to make any effort to run the belt.
A treadmill's horsepower (HP) is one of the crucial factors that indicate how efficiently the machine can run.
You should look for at least a 1.5 HP or above motor for walking. A higher horsepower is necessary (and recommended!) if you want to jog and run or if you're a heavyweight person.
Related: 8 of the Best Treadmills for Heavy People
Manual vs Electric Treadmill: Advantages
Here're the key advantages of manual and motorized treadmills.
Manual Treadmill Advantages
Electric Treadmill Advantages
Manual vs Electric Treadmill: Disadvantages
Here're the disadvantages of both manual and motorized treadmills.
Manual Treadmill Disadvantages
Electric Treadmill Disadvantages
Which is Better a Manual or Electric Treadmill?
Let's check out which type of treadmill suits best to your needs.
A manual treadmill could be a better option for you, if:
you want a basic treadmill (no programs and extra comfort features).
you prefer easy and very simple controls.
you want to burn more calories in less time.
your joints and knees are very healthy to put optimal pressure on the deck for moving.
you are willing to spend a few thousand dollars on a running machine. (However, walkers and joggers may find some great affordable options)
you want to make your lower body stronger and muscular fast.
An electric treadmill could be a better option for you, if:
you need extra motivation as these treadmills are loaded with lots of programs and entertainment options.
you have a previous knee injury or suffering from pain.
you are planning to train for a longer session without putting much stress or hurting your joints in the long term.
you need comfort features like easy incline and speed controls, Bluetooth, cooling fan, speakers, etc.
you want a treadmill for family use (from teenagers to older adults).
Best Manual Treadmill Reviews
Here're the best non-motorized treadmills for walkers, joggers, and runners.
Best Manual Treadmill for Walkers – Exerpeutic 100XL. It's our top pick budget manual treadmill that offers 325 pounds weight capacity, integrated pulse pads, and long handles, making it an excellent option for casual walkers (view on Amazon).
Best Manual Treadmill for Joggers – Sunny Health & Fitness SF-T7723. This manual treadmill comes with a 13.5% fixed incline and 16 levels of magnetic tension, which help you burn more calories in less time. Its weight limit and extended deck make it ideal for jogging (view on Amazon).
Best Manual Treadmill for Runners – Assault Fitness AirRunner. It's a curved manual treadmill, optimal for all types of training, which means you can efficiently walk, jog, and run. In terms of features, this treadmill gives an LCD console to track progress, and a highly durable belt assures long miles with zero electrical consumption. It's an expensive treadmill (view on Amazon).
Related: Here're the Best Manual Treadmills for Home Use
Best Electric Treadmill Reviews
Many brands produce electric treadmills since it is the most popular treadmill category for home gyms.
Here're the top motorized treadmills according to your needs.
Best Electric Treadmill for Walkers – NordicTrack T 6.5 S. It's our top choice and one of the best affordable motorized treadmills in the market that suit the walkers and light joggers best. It comes with well combination of features and entertainment options, making it stand out from the competition (view on Amazon). However, you can look out for the XTERRA TR150 treadmill for a more affordable option.
Best Electric Treadmill for Joggers – XTERRA TRX3500. It's the one for mid-range buyers who want to jog and light run on their treadmill. This treadmill offers a 3.0 HP motor along with a large deck, incline, and extended warranty period — easily earned the top position in this category (view on Amazon).
Best Electric Treadmill for Runners – NordicTrack 1750 (previous model). Looking for a running treadmill? Check out the NordicTrack 1750, which provides top-performance features and gives you an interactive training experience in the comfort of your home. It offers an HD touchscreen, iFit membership, and many more exciting features (view on Amazon).
Final Word
A treadmill is highly capable of giving you an effective cardio workout. Be sure to choose the one that fits your needs and budget.
If you can't decide which type of treadmill is best for you, we recommend you read carefully the "which treadmill is better" section above, or you can visit local clubs and gyms to test the treadmills physically.
So… There we have it: Manual vs. electric treadmill.
If you've any questions or doubts regarding these treadmills, feel free to ask in the comment section below. We'd be glad to help you out!
FAQs
Which type of treadmill is best for weight loss?
Losing weight is all about burning more calories than we consume. And in terms of burning calories, a manual treadmill is much more efficient than an electric one.
Because in a manual treadmill, you have to push the deck through your legs to get the belt running, which requires more energy than an electric treadmill where a motor does the work for you.
However, how many calories you burn may vary on your training time and intensity.
To burn your desired calories, you may need to train longer with a motorized treadmill than with a non-motorized one.
Do treadmills consume a lot of electricity?
According to Ecocostsavings.com, if you do 150 minutes of walking per week (e.g., 3.5 miles per hour), your treadmill will typically consume .7kWh of electricity which is approximately 10 cents per week in electricity and $5.10 per year. 
Are manual treadmills bad for joints and knees?
Although manual treadmills are very efficient in burning calories and making your heart healthier, they may not be good for your knees and joints in the long term.
When you try to increase your machine's speed, you need to put a lot more pressure through your legs, which may cause pain and irritation on the knees and ankles. Access uses of a manual treadmill can even damage your knee joints in the long run.